Please Note new web page on Elmer "Vioent Ray" Elmer "Violent" Ray" Boxer --- Federal Point Hero>

Dedicated to all of those before and after us who have felt the magnetic attractions of tranquility and peacefulness of Federal Point and area on the St Johns River in Florida
A Special Thanks to the following for their contributions and putting up with my incessant questions:
Brian Michaels and his book "The River Flows North" which I use frequently.
Dr. John Mahon (We all will miss him), Jim Cusick, Joe Knetsch, Chris Kimball, Mary Murphy-Hoffman, Pam Vojnovski,and my co-researcher Charlotte Johns and many others.
"
Memories of
Florida
" by
E. Stuart Hubbard is a five volume manuscript about the people and times in the early days of Federal Point. Without this the Federal Point Website would probably not exist. I have used exerpts from this without permission of the family. I have tried to contact the Hubbard family without success.
A special thanks to my wife Mary for sharing me with my computer. Without her help this would never happen
St. Augustine One Liners. "A Trip to the Past"*
Dickie Brantley's St. Augustine and Keterlinus High School Diary
I add to this site on a regular basis.
Although this site is dedicated to Federal Point we all have ties to St. Augustine. Dick Watson with the aid of numerous others has come up with a list of "One Liners" that are sure to jog your memories of the past and growing uip in St. Augustine. Click on the link above and start your journey.
Check Out the Cemetery Page. Photos of Grave Markers Have Been Added- Thanks to Mary Murphy-Hoffman.
The Link is below.
The Federal Point Cemetery (St. Pauls)
To provide a common place for all persons interested in this area.
A place to enter your Federal Point Family History, with pictures and documents.

Notes of interest to all.
Please sign our guest book below and leave a comment or suggestion of what you would like to see in these pages.
Most pages have links to other Websites that relate to that page or site. Please don't forget to "click" on these.
They can be identified by the caption with a line under it. TEST-This doesn't do any thing. It is only an example of the appearance of a link. Try the link right below. Put your pointer anywhere on the underlined print, it will turn into a hand, click it and you will be directed to that page or site. To return, click your browsers "Back" button.
Slavery, Secession and Success
Federal Point Military Service Men
The photo below is of the Federal Point School Class of about 1916. Can you identify any of the people. Email me at

jobrown@comcast.net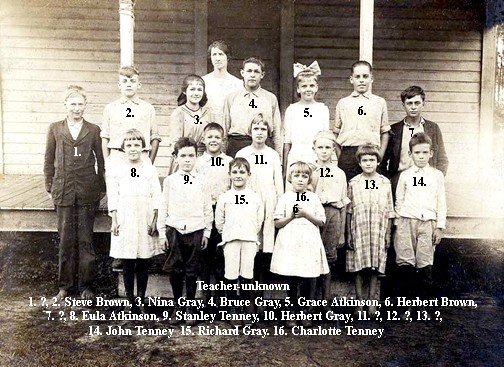 CAN YOU IDENTIFY ANY OF THESE PEOPLE